Discover more from The Banter - Washington DC
A newsletter for the politically informed. Straight out of Washington DC.
Over 6,000 subscribers
The Banter Brief: Joe Biden Slams Tara Reade Allegations, Trump Slump, and COVID-19 Vaccine Success
What a week that was!
Hello everyone and welcome to this week's edition of The Banter Brief!
Banter Memberships Are The Best: We are dedicated to providing our readers with properly sourced, fact checked journalism that helps you make sense of the never ending onslaught of news. We are here to keep you sane, and your support directly funds our efforts. During the Coronavirus pandemic, we are also offering readers 50% off. For less than the price of a cup of coffee each month you can access to premium articles, unlock our archive, and take part in member discussions, so please take advantage today!:
1. Most Important Story Of The Week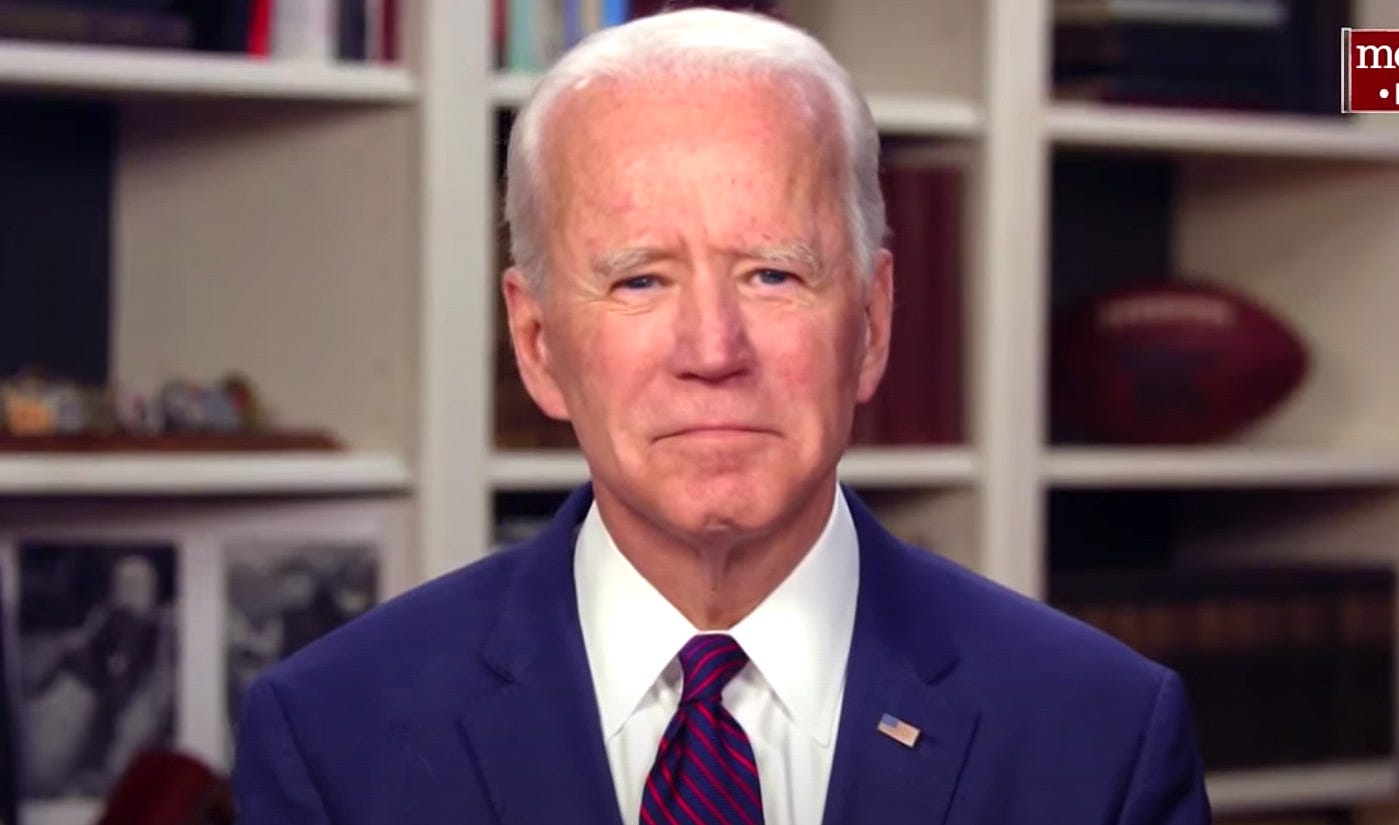 Joe Biden speaks out
"They aren't true. This never happened."
That was Joe Biden speaking out on the shocking allegations that he sexually assaulted Tara Reade in the US Senate building in 1993.
Reade's account of the sexual assault gained more traction this past week when a former neighbor claimed Reade had told her the story back in the mid to late 90's. Lynda LaCasse told Business Insider that: "I remember her saying, here was this person that she was working for and she idolized him… and he kind of put her up against a wall. And he put his hand up her skirt and he put his fingers inside her. She felt like she was assaulted, and she really didn't feel there was anything she could do."
Today, Biden spoke out about the allegations personally for the first time — in writing and on Morning Joe with Mika Brzezinski, maintaining Reade's claims are absolutely false. In a piece on Medium, Biden wrote:
While the details of these allegations of sexual harassment and sexual assault are complicated, two things are not complicated. One is that women deserve to be treated with dignity and respect, and when they step forward they should be heard, not silenced. The second is that their stories should be subject to appropriate inquiry and scrutiny

Responsible news organizations should examine and evaluate the full and growing record of inconsistencies in her story, which has changed repeatedly in both small and big ways.

But this much bears emphasizing.

She has said she raised some of these issues with her supervisor and senior staffers from my office at the time. They — both men and a woman — have said, unequivocally, that she never came to them and complained or raised issues. News organizations that have talked with literally dozens of former staffers have not found one — not one — who corroborated her allegations in any way. Indeed, many of them spoke to the culture of an office that would not have tolerated harassment in any way — as indeed I would not have.
Who is telling the truth here? It is of course impossible to tell given there are no other witnesses, but as Biden points out, Reade's ever changing story damages her credibility badly. This coupled with a deeply troubling history of deception and fraud (more to come on this, so stay tuned) makes Reade's version of events harder to take seriously. This isn't to say Reade is lying, but if this case had gone to court, it is unlikely it would have gone well for her.
---
For Banter Members: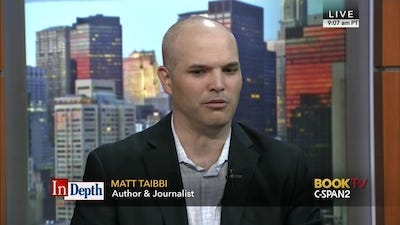 Taibbi is now citing media outlets with a history of White Nationalism to disprove Trump's ties to Russia, says Ben Cohen.
---
2. Poll Analysis
Take a look at the new swing state polling from FiveThirtyEight: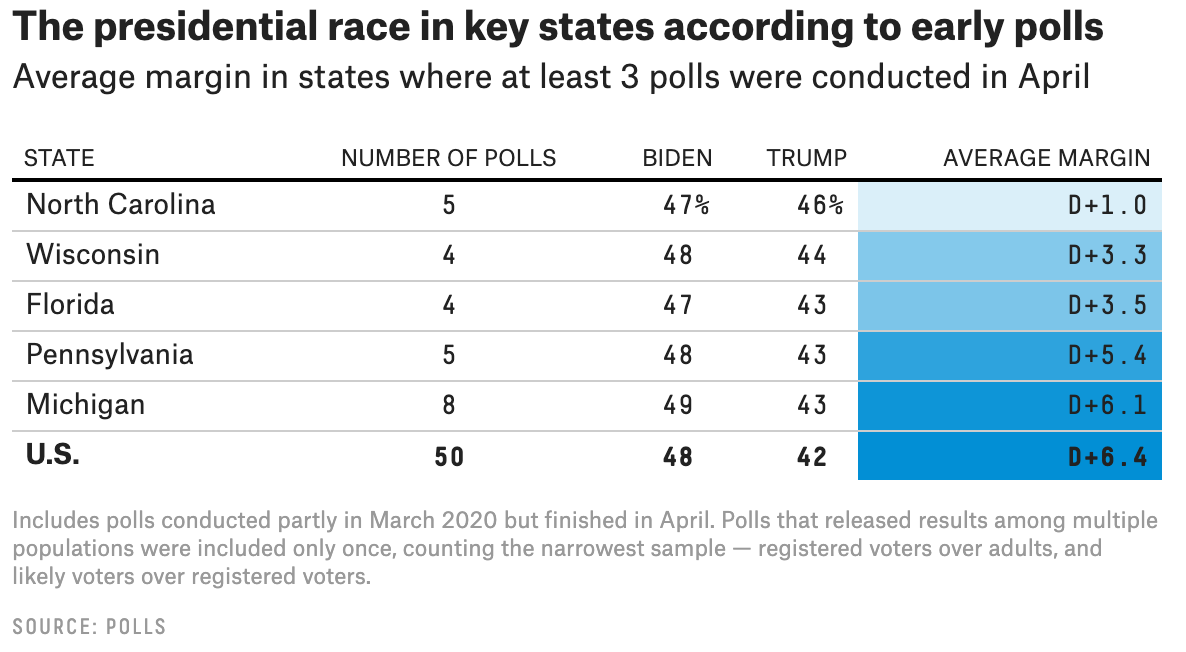 As FiveThirtyEight points out, "if Biden wins all of the states Hillary Clinton won in 2016 plus any combination of three of these four, he would be elected president."
As is always the case with polling and predicting election outcomes, there are many, many intangibles. However, Trump is raging about his polling numbers for good reason — his re-election prospects are getting dimmer by the week.
3. Quote Of The Week
"You may remember what they first told us back in February and March? They said we have to take radical steps in order to 'flatten the curve.' Well, six weeks later, we're happy to say that curve has been flattened, but it's likely not because of the lockdown. The virus just isn't nearly as deadly as we thought it was … Hospitals never collapsed. Outside of a tiny number of places, they never even came close to collapsing."
- Tucker Carlson explaining to his viewers that contrary to all publicly available data, Coronavirus isn't actually all that bad.
4. What to Watch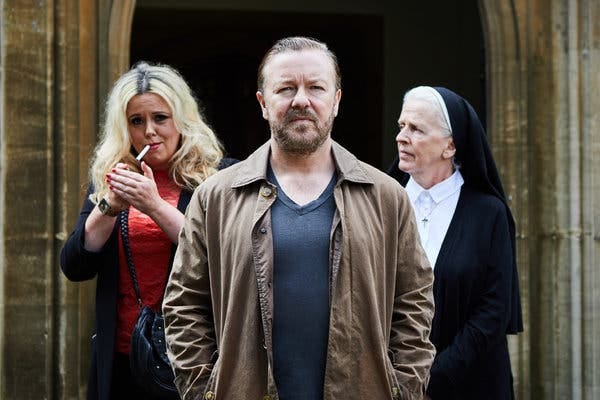 After Life
Ricky Gervais's new Netflix series is equal parts heartbreaking, heartwarming and hilarious. Gervais plays Tony, a borderline suicidal middle aged man who has recently lost his wife. To cope with his grief, Tony watches endless videos of Lisa (his deceased wife), and takes out his anger on everyone around him. That is until he begins to see the pain others carry with them and the effects of his unkindness.
Given Gervais is a master of the insult, Tony is one of his best characters in many years. Tony is free to unleash his feelings on anyone and everyone, and Gervais clearly had a lot of fun with the role. He fits so seamlessly into his role in fact, that you often forget Gervais is playing a character. Tony is Gervais in another life, and you get the feeling the series comes from a place he wants to comes to terms with in his own life.
It is a darkly funny show supported by a fantastic cast who play equally hilarious characters. Depressing in parts, yes, but ultimately life affirming and brilliantly witty.
5. Good News
Vaccine success for COVID-19
This is astonishingly good news from the most promising vaccine trials for COVID-19. Via the New York Times:
The Oxford scientists now say that with an emergency approval from regulators, the first few million doses of their vaccine could be available by September — at least several months ahead of any of the other announced efforts — if it proves to be effective.

Now, they have received promising news suggesting that it might.

Scientists at the National Institutes of Health's Rocky Mountain Laboratory in Montana last month inoculated six rhesus macaque monkeys with single doses of the Oxford vaccine. The animals were then exposed to heavy quantities of the virus that is causing the pandemic — exposure that had consistently sickened other monkeys in the lab. But more than 28 days later all six were healthy, said Vincent Munster, the researcher who conducted the test.
Fingers, toes, arms and legs crossed. Have a great weekend everyone!
Read the latest for Banter Members:
Taibbi is now citing media outlets with a history of White Nationalism to disprove Trump's ties to Russia, says Ben Cohen.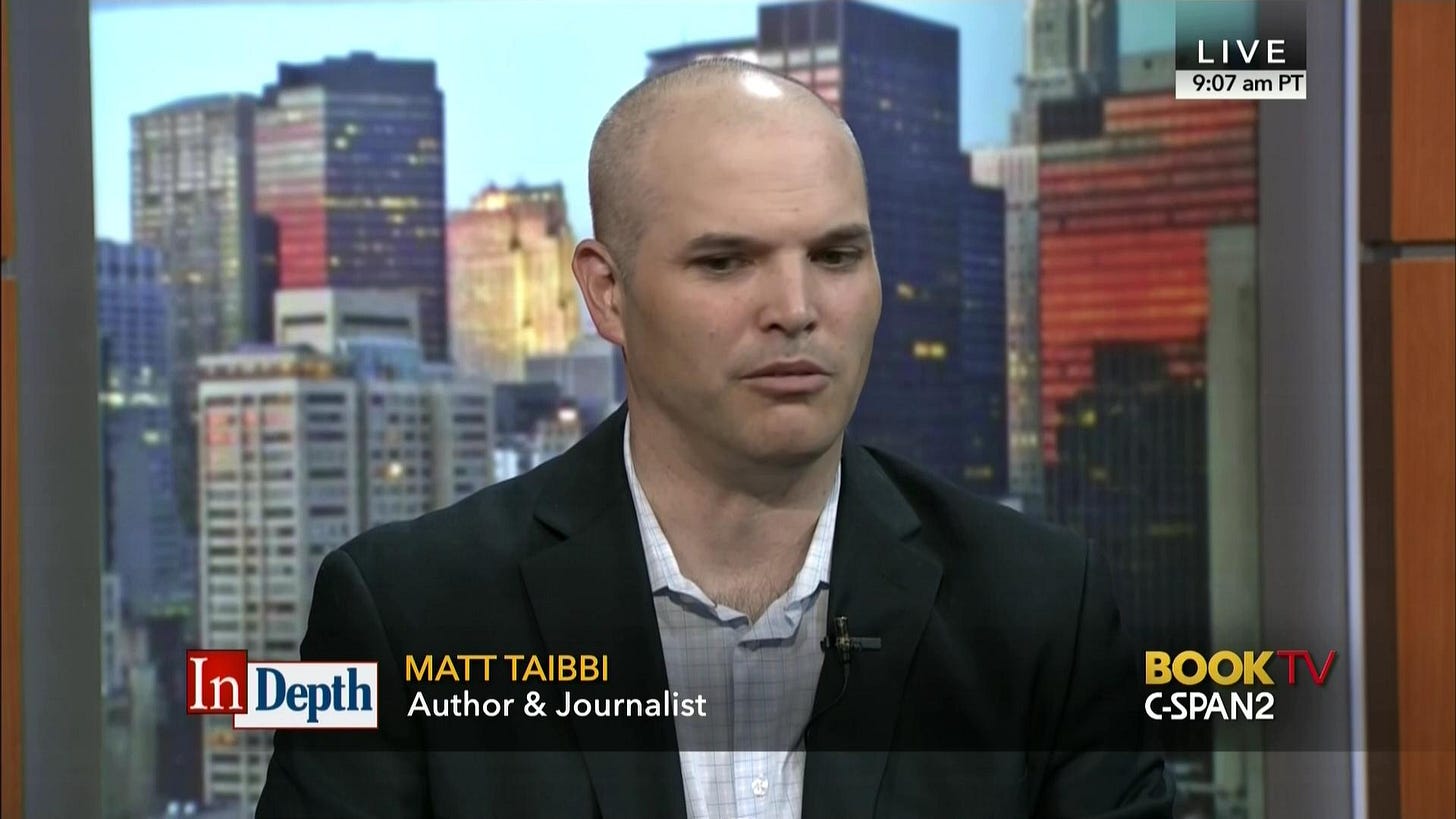 The nonstop efforts of Trump and conservative propaganda to downplay Covid-19 are leading us to disaster, says Justin Rosario